Friday before the storm (gathering) saw
Paul Kuthe
, Tim and I setting off along the cliffs between Bull Bay and Porth Wen. The cliffs gave us shelter from the strengthening southerly wind along with plenty of rock hopping fun.
Just as we set off from the bay, channel 16 crackled out the words "securite, securite, securite" which preceded a gale warning.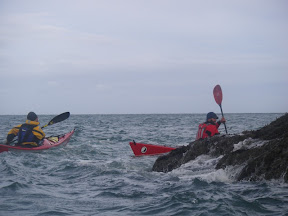 We kept our paddling journey short but sweet. That's enough excitement for today. We now wait to see what the Storm Gathering (proper) with have in store.