Yesterday the sea was too rough to go paddling so I went for a refreshing walk along the cliffs that lie either side of Rhoscolyn Head.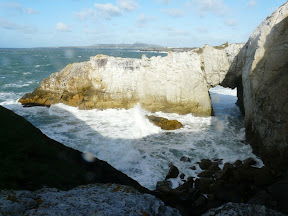 The waves were spectacular and the wind whipped up spray and foam high into the air.
Overnight the wind has taken on more of a northerly direction and the drop in temperature is quite marked.
Today I have been paddling in the shelter of the Menai Strait in the company of Pete Baars from the 'Summit to Sea' kayak shop, and Franco Ferrero from 'Pesda Press'.
It seemed as though the weather could not make it's mind up. Short blustery showers were soon followed by dazzling autumn sunshine.
We stopped at 'The Gazelle' hotel for a warming cup of hot chocolate before heading back to Y Felinheli where we had started.