Today started breezy with gales predicted in the afternoon. This made it easy to designate this as a rest day. Following a leisurely breakfast of bacon butties washed down with plenty of coffee, I set off to the canoe shop in Valley to say hello the owner, Pete Barrs.
One mug of tea and a good natter set me up for an afternoon of short blustery walks. Trearddur Bay was truly wild with huge foaming waves surging over the rocks and on to the beach.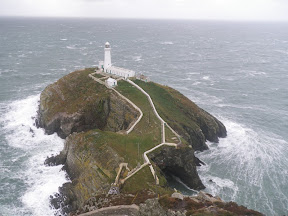 The waves were smaller than I expected at South Stack but the wind was blistering as it tore past a myriad of rocky promontories.