Strong southerly winds have continued to entertain the storm gatherers on Anglesey throughout this weekend. I have had the pleasure of sharing guiding duties with Greenland expert Martin Rickard and Manchester based coach Richard McEvoy.
The north coast of Anglesey has been the perfect venue for introducing paddlers to these shores.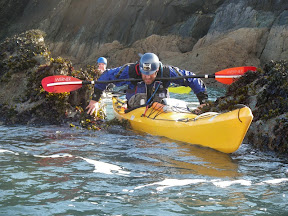 In the last couple of days we have explored every nook and cranny between Bull Bay and Porth Wen. We have threaded the eye of every needle there is and slotted into caves of all sizes.
Some brave moves left Neil high and dry, and a little embarrassed.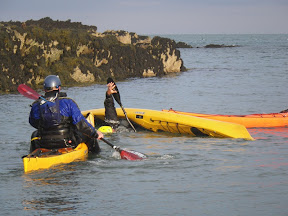 Before landing some have taken the opportunity to do some rolling practice.
...and some have been experimenting with some more unusual paddling techniques.
At the end of each day paddlers have returned with indelible beaming grins.