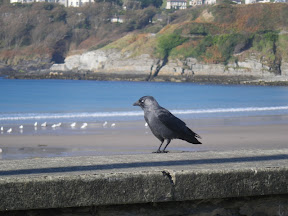 During the last couple of days of our visit to the Isle of Man, Kirstine and I set out to explore the south west shores.
On Wednesday we started from Port Erin and braved strong southerly winds by sheltering beneath the cliffs of Bay Fine before taking a sneaky peek at Calf Sound.
Along the way we took the opportunity to explore the many deep caves along the way.
On Thursday, we started from Port Erin again but this time we headed north. With the wind and tide behind us, we quickly found ourselves beneath the towering cliffs of Bradda Head.
The Manx mists descended giving the towering rocky buttresses and eerie air. It was an exciting bouncy trip with gusts of Wind whistling around our ears. It was a great relief to reach Fleshwick Bay where we landed briefly for a quick bite to eat. We knew that the return would be challenging so we set off in determined fashion.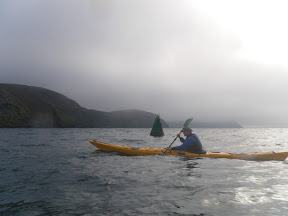 The wind buffeted off every headland slowing our progress but our persistence paid off as we crashed through the last few waves entering Port Erin for the last time.
It's sad to be leaving Keirron at Adventurous Experiences and his family at Ballabrooie behind. We have had a wonderful time here and we'll look forward to another visit very soon.